Here is the list of lectures I am currently presenting in person or via webinar.  Don't see what you're looking for?  I regularly add new topics or customize existing lectures.  Please contact me to discuss!
Most Popular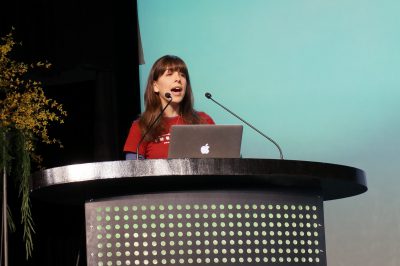 Top 10 Things I Learned About My Family from My Couch (video)
This talk reviews the possibilities of Internet-based genealogical research in an entertaining, wide-ranging format suitable for all levels.
The Ancestor Deep-Dive: How You Can Find Out Everything There Possibly is to Know About Your Ancestor
Jam-packed with creative research approaches and underutilized sources, this talk will excite your group with the kinds of discoveries awaiting them.  Though this is an intermediate-level class for genealogists looking for their next break-throughs, everyone will find inspiration in the case study of one ancestor for whom I followed these techniques to completion.
The Margarine Moonshiners from Minsk
The most hilarious genealogical lecture you'll ever hear, this talk traces how I discovered the story of how one branch of my family was incarcerated in Leavenworth for defying one of the stranger pieces of legislation ever passed.  Entertaining for everyone, this talk introduces intermediate-level research techniques.
I give two versions of this talk:
One is about conducting story-driven research (video)
The other is about the role of curiosity and persistence in conducting long-term genealogy research
Technology for Creating Cousin Bait That Works
Cousin bait is the public information trail you leave for people researching the same ancestors as you to find you.  (Here's some of mine.)  In the Internet age, creating the trail means posting content online that is optimized for search engines. This class is suitable for all levels of technology expertise.
Lost and Found: Rediscovering My Family History in the Internet Age
This talk explains how technology has transformed genealogy, with three case studies of my own previously-impossible breakthroughs.  This talk has enthralled non-genealogy groups who want to learn more about how genealogy works and what's in it for them.
Storytelling for Genealogists
Conducting Story-Driven Research
Looking at your genealogy research from the perspective of the story you wish you could tell is a short-cut towards deciding what questions you aren't asking about your family's past. Learn how thinking like a storyteller will turn you into a better researcher.
Story by Story, Preserve Your Family's History
Stop being daunted by the enormous task of writing your family's whole history.  Learn how to break down your research into individual storylines, tell each one in a compelling way, and over time link these stories together.
Jewish Genealogy
Reconstructing Small-Town Jewish Communities in America:  A Case Study (video)
While the history of the American Jewish community is largely an urban one, most of us have at least one branch from a small town. This talk will review research approaches for studying your ancestral small town and your family's role in it. Along the way you'll hear lots of memorable and surprising stories of what life was like for the residents of these places.
"There's No One Left to Talk To":  Using Synagogue Records to Tell the Story of a Lost Community
Using a case study of one of my ancestral towns in the U.S. (Homestead, PA), I will show how I was able to reconstruct a surprisingly rich history about the town's first Jewish residents by analyzing the synagogue's surviving records.  This personal introduction to working with these unique collections will demonstrate how you can similarly expand your understanding of your ancestors' lives.
In Search of a Usable Past:  Reconstructing the Jewish History of Homestead, PA (video)
A "usable past" is history-as-heritage, projecting ourselves into the past to ground our values in the present and hopefully to live a richer life as a result.  In this talk I examine how I used the surviving records of Jewish Homestead to contextualize my family's history in their larger Jewish community, thus creating a greater connection with my Jewish values in the present day.
Jewish Signature Tablecloths: An Evocative Heirloom and a Genealogical Treasure (video)
In genealogical research, we rely upon paper records, bronze yahrzeit plaques and stone matzevot. A surprising set of records, created in cloth and thread, are tablecloths, embroidered with names numbering in the dozens or hundreds. Created by Jewish community organizations, they capture their members and their families. Learn more about these delightful heirlooms and see present-day examples to inspire you and your community.
Pennsylvania Genealogy
Researching Your Jewish Ancestors in Pennsylvania
Your Jewish ancestors in Pennsylvania contributed to a state with one of the oldest and richest Jewish histories.  Learn how to identify your ancestors in each wave of settlement, unique records repositories for each region, and techniques for using these records to trace your ancestors backwards and forwards in time.
Researching Your Small Pennsylvania Town
Though small towns may seem harder to research than cities, the manageable size provides unique records and approaches that reveal your ancestor's life in context.  Learn about the different kinds of small towns in Pennsylvania, what kinds of people lived there, and what records each group left behind.
Technology in Genealogy
Small Town, Big Data: Reconstructing Defunct Communities Through Technology
Genealogists use the records of defunct communities to trace individuals, but unexplored power lies in looking at multiple, overlapping record sets in their entirety. This talk presents techniques for digitally recreating a community and its collective history by identifying relevant collections; using technology to digitize, index, tag, and map those records; and incorporating the contributions of descendants. The talk incorporates a robust case study of how these techniques were applied to a small community in the U.S., but the same techniques can be applied to any community with surviving records.
Making Your Old Home Movies New: Using iMovie to Repackage Your Family Video Highlights
Technology to Help You Share Family Stories
Beyond the Tree:  Tools & Tips for Sharing Your Family History
The Democratization of History Through Technology
Timeline Creation Applications
Tips and Tricks
100 Days to a Better Family History
Attend this class for one hour and leave with a plan for your next hundred days of family history activities!  Starting with a self-assessment of research progress to date, this class will help attendees prioritize research activities, pace work, and set deadlines.
Treelines
Improving Your Storytelling:  Trees and Stories on Treelines.com
Family Timelines with Treelines.com (available as a lecture or a computer lab)
Telling Family Stories the Treelines Way (more)